BE SAFE
&
GOOD SHOOTING!!!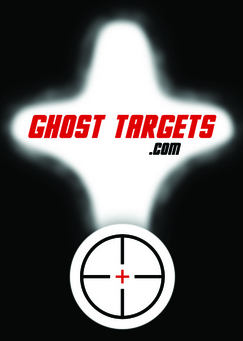 If You can HIT a Ghost....You can HIT anything!!!
Copyright © 2019. All rights reserved. Reproduction strictly prohibited.

The McNally Trigger for Glocks
with Enhanched Safety
Info Page
The problem with a standard Glock trigger pull is the trigger collapases after the firing pin is released, causing a "jerk" at the most critical point in your trigger control. This is solved by the trigger stop in the McNally Trigger by stopping the rearward travel (at the source( once the firing pin is released. You will see an immediate benefit when you dry fire and the front site doesn't move when the firing pin is released. This is a positive trigger stop because it stops the trigger, not the trigger mechaniasm housing like most aftermarket kits.

The McNally Trigger has a forward travel adjustment that reduces long travel. Some forward travel called "creep" is necessary to make sure allthe safeties are engaged when your finger is off the trigger. The McNally Trigger has a goil spring in the trigger safety which will positively engage/disengage. The safety also conforms to the wide FLAT face of the trigger to prevent the discomfort when shooting a bunch and having an irritated trigger finger.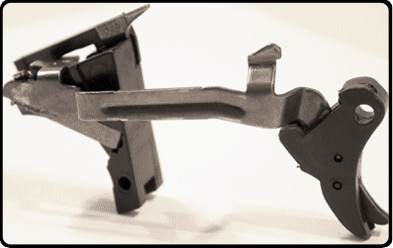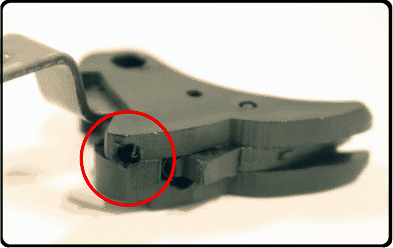 Two-Way Adjustment
Far More Accuracy
The McNally Trigger has both forward and back travel adjustments that can be set for optimal release and reset of the firing pin during the firing cycle. This enhances accuracy on your frist and follow up shots but still keeps all safties intact!

The adjustments are intergrated into the McNally Trigger shoe which replaces the OEM or factory shoe. Adjustments are simply made with an allen wrench. The enhanced trigger safety is wider and has a positive coil spring engagement. Both the trigger shoe and trigger safety are made of a denser polymer for more durability.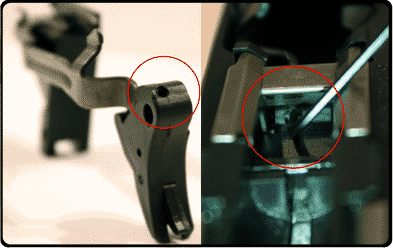 Personal note to all my friends and customers:
These triggers are AWESOME! There really isn't anyway to really describe how much difference these triggers make shooting a Glock more enjoyable & more accurate! Plus there is no need for a gunsmith to install one, it takes less than 5 minutes. Even a Ghost could do it! LOL! If you shoot a Glock you need to try one!
NO RISK to try one with our 30 day money back Guarantee.
You don't like it for any reason send it back within 30 days for full refund!
Mike Mooty, Creator of GhostTargets
Competition
McNally Match Trigger
Glock 3.5 minus connector
Law Enforcement
McNally LE Trigger
Clock 5.5 connector
Concealed Carry
McNally CC Trigger
Glock 5.5 connector